Wed 23 Jun, 2010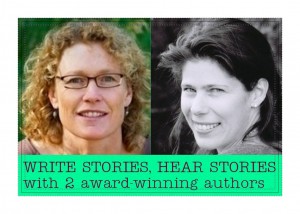 Join Laura Pritchett and I for two back-to-back classes
followed by a reading:
Boulder, Monday Aug. 9, 1:30-9 p.m.
THE CLASSES will be held from 1:30 to 5:30 p.m. in North Boulder. They come as a package & cost $60/person emboldenyourwriting@gmail.com
THE READING (which can be attended separately) starts at 7 p.m., Chatauqua Community House. Admission is $5; to learn more or by a ticket go to:
http://www.chatauqua.com/forums_and_family.php
What will the classes cover, you ask? They will strike at the heart of our emotional and creative lives and are designed to proke and inspire. Like the reading, they feature authors
Laura Pritchett www.laurapritchett.com and moi, Lisa Jones www.lisajoneswrites.com
HERE ARE THE CLASS DESCRIPTIONS:
WRITING SEX WELL (get out of bed and onto the pages!)
One of Laura Pritchett's most popular classes, WRITING SEX WELL will have you giggling, writing furiously, and exploring the possibilities of writing real stuff in a real way. Sex is not always good, but it's always revealing! Whether it's fantastic, boring, strange or predictable, sex is one of the most powerful unions and sensations we experience, and it shouldn't be skipped or avoided in writing. On the other hand, a sex scene shouldn't be included unless it serves a purpose, which is to illustrate the characters and the larger themes of the work. This workshop will introuce examples of good literary sex scenes and explore some ideas about writing sex well — how to direct an honest gaze at this most fascinating activity.
I'D RATHER GNAW OFF MY ARM THAN WRITE THAT!
(what you're avoiding putting on the page)
Lisa Jones, who went through this feeling umpteen times while writing BROKEN: A Love Story, will lead this segment. Memoir may sound like an easy genre, because you know the material — you were there, right? But the truth is, writing memoir brings you face to face with things you've done and decisions you and others have made that you'd rather leave out. But good narrative may demand they be acknowledged on the page. Lisa will draw from the experience of other memoirists, as well as describe her own final, wine-assisted surrender to writing down the bare, shuddering facts in her own book. And she'll talk about how forgiving the reading public has been. Then we'll do some fun, generative writing exercises to assist the beginning of the surrender to the truth.
Leave a Reply