Wed 26 Aug, 2009
840 miles, two radio interviews, three readings (four if you count the fact we read twice in Santa Fe), 23,685 french fries, one narrowly missed goat (which ran out on the road near Farmington, N.M. in front of Stanford's truck in the photo to the right) one hawk that dove in front of my car outside of Del Norte, Colorado, (also narrowly missed), one coyote eating something on the side of I-25 near Pueblo, another trotting off into the sage near Santa Fe, a sweat lodge, three households thrown open to the needs of nine travelers….. after all that, we're all basically collapsed at my house. Today, we recuperate; tomorrow, we part.
The readings — in Santa Fe, N.M., and in Colorado in Durango and Salida — were great. People really liked the stories and pretty much melted around Stanford. A cowboy who runs a therapeutic horsemanship program for veterans came; so did two old pals of mine from Manual High School in Denver…There was a lot of chile (thanks Erich!), a great sweat lodge at Angelique and David Midthunder's house, late night music, a couple of too-early mornings, coffee, coffee, coffee. Oh, and the radio interviews (the afterglow of our first one can be seen below), and a third one done over the phone with me days before we arrived can be listened to here: http://www.santaferadiocafe.org/podcasts/?p=678.
Driving the last leg through South Park, Colorado yesterday afternoon was absolutely magical. Fall in the light and the air, and the feeling of being done done done done. Yum.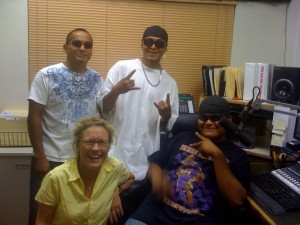 One Response to "off the road again"
5:22 am, 27 August, 2009 р.
Mercedes L. Goldenrod says:

---

Thanks, Lisa, for the updates. Very glad the trip went well, from sounds of your description. Is good to know! Appreciate you taking the time to fill in those of us that weren't able to attend.. Continued best wishes for everyone!
Leave a Reply